This weekend we picked strawberries and cherries at  local orchards. I always pick enough fresh fruit to preserve some for the off season months. Some of the fruit will be frozen and some will be canned. Of course we eat a good amount of fresh fruit too!
To make your fresh fruit last longer, do not wash it until you are ready to eat it. For cherries, pick them with the stem on to make them last longer. Always pick ripe yet firm berries and cherries.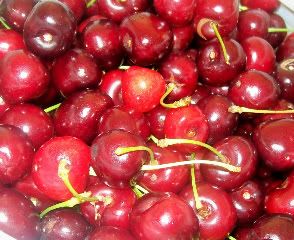 If you don't own a cherry pitter, try using a large paper clip or safety pin. The frugal in me decided not to buy a cherry pitter for the one time a year that I buy cherries. I found that using the rounded end of a safety pin worked very well.
Freezing fruit is very easy. Wash and de-stem the fruit. Place a single layer of fruit on waxed paper on a cookie sheet. This step is called flash freezing and it is done so the fruit doesn't stick together. Freeze fruit that is ripe, but not mushy.
When the fruit is frozen through, remove from cookie sheet and place in freezer bags. Remove as much air as possible. I have a hand held vacuum sealer that I use, but it is not necessary. The fruit will last for several months. Since they are not all stuck together, you can take a small amount out at a time.
This year I am going to try canning Strawberry Butter. It is basically just strawberry puree and sugar. Strawberry Butter requires less sugar than jam which will be healthier for my boys! They love jam but I dislike the amount of sugar that it requires. Canning is perfect for fruit that is a bit mushy and very ripe.
Other fruits I have planned for the summer: Blackberries, Peaches, Blueberries and Apples (and most likely in that order!). Picking your own fruit is a lot of work, but it is a family fun event that we look forward to each summer.
Cook, Baker, Phototaker, Fitness Mover and Shaker, Cupcake Tester, Deal Maker, Adventurous Undertaker, Do Good "Deeder", Teacher, Mom, Wife, Patriot for Life & Giver of Good Advice – RealAdviceGal