Do you love red lipstick? I know some may find red lipsticks hard to pull off or a bit intimidating to wear, but I think every one just needs to find their perfect shade of red lipstick. So, let's talk about the best red lipsticks!
I've always loved red lipsticks. Eversince I just wasn't drawn to the nudes, mauves or the pinks, I tried but those are just not the colors that make me feel lively or that brightens my face. There's something lacking when I wear those light shades of lippies.
Red lipsticks make me happy. I have different shades in my collection and I feel like it makes me more alive and joyful. Not only that, but red lipstick gives me that boost of self-onfidence. It's so fun to wear.
So, if you're not yet a red lippie girl or you want to explore more shades. Read on and check out my picks of the best red lipsticks for 2022!
Search for The Best Red Lipstick
My Picks – the Best Red Lipsticks of 2022
Mac – shade Ruby Woo
– No best red lipstick list is complete without the iconic blue red shade of the retro matte Mac Ruby Woo. This is the lipstick that made me fall in love with red lippies. It's just the perfect red that would lit up your face even if you're just wearing your foundation.
After all these years, I still love this lipstick and I always have an extra in my collection.
Mac – shade Ruby Phew
– If you love Mac Ruby Woo, then you must check out its liquid lipcolor counterpart. Mac Ruby Phew is a retro matte liquid lipcolor with the same blue-red shade in a velvety matte finish.
Nars Powermatte Lip Pigment – shade Starwoman
– OMG! If there's one red lipstick that you should get right now, this is it! Nars Starwoman is an amazing blue-red shade of liquid lipstick that will look amazing on anyone. It's so comfortable on the lips, and so easy to apply. The best part is it's transfer proof and will last long.
Nars Starwoman is definitely my favorite among all!
Rouge Dior Forever – transfer proof – shade 999
– Another iconic lipstick shade but the best part is now they reformulated this bullet lipstick into transfer proof formula that promises 16hr wear. This coral red matte shade is very lightweight and comfortable on the lips.
Charlotte Tilbury – shade Red Carpet Red
– A beautiful ruby red matte lipstick that doesn't feel heavy on the lips.
This Charlotte Tilbury lipstick stays for hours but is not transfer proof. This is the kind of red that looks good on every skin tone.
Chanel Rouge Allure Luminous Intense Lip Color – shade Pirate
– A vibrant satin red lipstick that glides like butter.
Giorgio Armani Lip Maestro Matte Liquid Lipstick – shade 400
– Non-drying and promises 8 hours of long lasting wear. This beautiful lipstick has velvety finish and non-drying formula.
Nars Velvet Matte Lip Pencil – shade Dragon Girl
– If you want a red lipstick in an easy to apply formula, then this Nars lip pencil in Dragon Girl is the one for you. According to some articles, this used to be one of Taylor Swift's favorite red lip shade. Since it's in a pencil form, it's so easy to apply and doesn't bleed around the lips.
Fenty Stunna Lip Paint Longwear Fluid Lip Color – shade Uncensored
– Stunning red lip color. Another universal red shade that's flattering in every skin tone.
Tom Ford Lip Color Matte Lipstick – shade Ruby Rush
– If you want a luxurious designer lipstick then check out this Tom Ford red lipstick. The formula is very smooth yet still matte which makes it amazing.
Pat McGrath MatteTrance™ Lipstick – shade Elson
– Lightweight, intensely saturated color in a unique oil-infused powder formula. This red lipstick gives a soft ocus effect compared to others.
Best Drugstore Red Lipsticks 2022
L'Oreal Paris Makeup Colour Riche Hydrating Satin Lipstick – shade 315 True Red
– If you're not a fan of matte lipsticks or liquid lipsticks then this hydrating satin lipstick is for you. It glides smoothly and so creamy.
Maybelline New York Super Stay Matte Ink Liquid Lipstick, Up to 16H Wear – shade Exhilarator
– Color intense matte finish. This liquid lipstick promises 16 hr of wear. This ruby shade is a show stopper. It's smudge-free and transfer proof.
Maybelline Super Stay Vinyl Ink Longwear Liquid Lipcolor – shade Wicked (cool red)
– You can't go wrong with Maybelline when it comes to great formula and budget-friendly lipsticks. This vinyl ink longwear liquid lipcolor is their latest creation and the shades Wicked (cool-red), a true red with pink undertone and the shade Red-Hot (fire engine red) that looks like a bright orange-red are perfect for red lipstick lovers. Shiny, but no-budge intense colors that are comfortable to the lips unlike the mattes. It transfers a bit but it does last long.
Maybelline Super Stay Vinyl Ink Longwear Liquid Lipcolor – shade Red-Hot (Fire Engine Red)
NYX PROFESSIONAL MAKEUP Shine Loud, Long-Lasting Liquid Lipstick with Clear Lip Gloss – shade On A Mission (Blue Red)
– 2-step high shine lipstick. High shine base coat and glossy top coat. Stays on up to 16 hours and is transfer proof.
Flower Beauty Petal Pout Lipstick – Cruelty Free – shade Poppy Pout – Matte
– Cruelty-free bullet lipstick. This gorgeous red shade will make you look radiant. Formula is hydrating and very comfortable on the lips.
Wet n Wild Megalast Catsuit Matte Liquid Lipstick – shade Red Missy and Fierce
– High pigmented liquid lipstick that applies glossy and dries down to matte. It's long lasting but a bit dry on the lips so make sure to apply lip balm first but the red shade is great.
Ultra HD Matte Lip Mousse Hyper Matte – shade Red Hot
– Nourishing matte lipstick that stays on for hours.
L'Oreal Paris Infallible Pro Matte Liquid Lipstick, Up to 16HR Wear – shade Red Affair
– Long lasting intense matte liquid lipstick that provides up to 16HRs of comfortable wear. The shade red affair is a bright coral red shade.
What is your favorite red lipstick? I'd love to know, so please leave a comment below and share it with us.
Are you red lipstick girl? If you are, you know nothing looks better or worse. I mean it. If your lipstick stays on and in place you look great. If your lipstick smears and is all over the place you know that you look like a clown. I have to say red is wonderful it makes your smile look brighter and it is a great color for almost everyone.
You will need to figure out your perfect red. I suggest going to Sephora or a place that offers a lot of choices where you can try out the products, I have spent a lot time buying different reds and testing out their ability to stay in place, their longevity, and their duration in search for the best red lipstick.
The Best Red Lipstick
The winner so far has been the MAC Pro Longwear Lasting Lust.
I can honestly say I have never had a lipstick stay on and retain its color for longer. The only downside is the price is $25. I do not care because it works and it lasts me a good three months. If you know me you know I am never without my red lipstick so it is something I use and love every day. I am on the quest to see if I can find something that works just as well for less money.
I heard about the Rimmel Provocalips 16hr Kissproof Lipstick and since it was less than half of what the MAC cost I decided to give it a try. I judge my lipsticks on color, duration it is in place, cost, and does it smear. I was pleasantly surprised with the Rimmel results and the cost.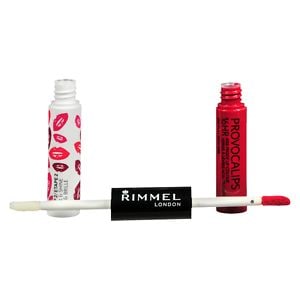 Buy Rimmel now >>> Drugstore.com
, Amazon and Walgreens
I also like Lip Ink because you can change the shade. You can read my full post on lip ink here.
This is the newest sephora stay put stain it is $14. It stayed on pretty well until I ate pizza and then it was off like a prom dress.
What is the Best Red Lipstick you have found?
How To Organize Your Make Up Collection
Need makeup tips? Read our Ask a Makeup Artist articles.
For an all natural beauty, check out our Homemade Beauty Recipes and our other Beauty Tips!
Cook, Baker, Phototaker, Fitness Mover and Shaker, Cupcake Tester, Deal Maker, Adventurous Undertaker, Do Good "Deeder", Teacher, Mom, Wife, Patriot for Life & Giver of Good Advice – RealAdviceGal